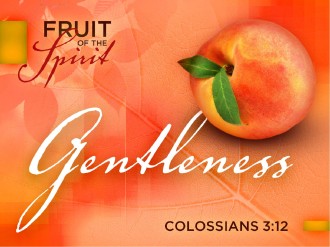 Galatians 5:22 and 23 lists the fruit of the Spirit. Gentleness as a fruit is distinctive from kindness and goodness in that the emphasis is on humility. Gentleness, or meekness, as it is translated in the King James Version, is not weakness or timidity. It means to be gentle, even-tempered, and suggests a lack of pride and a total willingness to submit one's will to God's.
In Acts 7:22, Stephen taught that "
Moses was learned in all the wisdom of the Egyptians, and was mighty in words and deeds."
Moses was highly educated in the most advanced academia of his time. But between age 40 and 80, Moses learned meekness in the plains of Midian, and became the most humble of all men. (Numbers 12:3)
As capable as Moses was, he had to believe and obey God when he was confronting the Pharaoh, leading the Israelites from Egypt, crossing the Red Sea, and being led by the pillar of fire by night and the cloud by day. And he proved himself approachable when his father-in-law, Jethro offered Moses a better plan for counseling and directing thousands of people. Exodus 18:24 says, "
So Moses heeded the voice of his father-in-law and did all that he had said."
A person with this quality of meekness, or gentleness, is not arrogant, but is teachable.
Jesus said, "
Come to Me, all you who labor and are heavy laden, and I will give you rest. Take My yoke upon you and learn from Me, for I am gentle and lowly in heart, and you will find rest for your souls. For My yoke is easy and My burden is light."
(Matthew 11:28-30) Jesus spoke of being gentle, or meek, and lowly in heart, or humble. Even the Master Teacher was teachable, not puffed up with His own perfection.
Christians are to develop this admirable fruit of the Spirit and retain this quality at all times. Self-importance has no place in the Body of Christ. "
Brethren, if a man is overtaken in any trespass, you who are spiritual restore such a one in a spirit of gentleness, considering yourself lest you also be tempted."
(Galatians 6:1)
_______________________________________________________________________